This decadent brownie tastes like a throwback! If you're a fan of coffee and sweet desserts, this one is sure to please! With its melt-in-your-mouth texture, the team loved it! So we show you this super simple and easy to make espresso melt-in-your-mouth brownies recipe!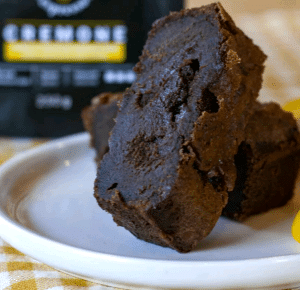 Ingredients
2.5 tablespoons Cremone espresso coffee, ground as fine as possible
100g butter
240g semi-sweet dark chocolate
4 eggs
1 pinch of salt
3 tbsp of flour
Preparation
Preheat oven to 350 degrees fahrenheit
In a double boiler, melt butter and chocolate, stirring occasionally until liquid and smooth
Transfer the butter and chocolate to a large bowl and add all the other ingredients
Mix until smooth
Pour into a buttered baking dish
Place the mixture in the oven for 15 to 17 minutes
Let stand for 5 minutes
The last step is to enjoy a delicious fondant hot out of the oven! 😋 We hope you enjoy this recipe!
For more caffeinated recipes, visit the recipe section of our blog! If you enjoyed this dessert and want to try more, you'll love the espresso white chocolate dipped strawberries! Also check out how we made the ice cream sandwiches!